Over the past 10 years, people with moderate-severe psoriasis have been treated successfully with new biologic injections. However, the injections can be expensive (estimated annual cost is £10,000). Unfortunately, the injections do not produce a satisfactory response in a number of patients, who may then need to try subsequent biologic injections before finding one that works for them.
Our consortium, formed by dermatologists, industry partners (including pharmaceutical companies), and importantly, the Psoriasis Association, aims to determine whether clinical, genetic and/or immune biomarkers (or indicators / traits) may be used to predict response to biologic therapy.
What we want to achieve:
If we could predict which patients will do well with a particular biologic drug, then we could devise new treatment plans that would be personalised for each patient – rather than the current system of "trial and error" prescribing. This could result in significant cost savings to the NHS and aid the pharmaceutical industry in development of new drugs, benefitting society as a whole.
Work Strand 1 (WS1) aims to:
• identify clinical and pharmacological predictors of response e.g. do thicker plaques of psoriasis clear better with a treatment than thinner plaques of psoriasis?
• identify mechanisms of treatment failure including adherence and the contribution of drug immunogenicity e.g. are patients using the injections how they were originally intended to be used (frequency) or is the patient's own bodily defence mechanisms preventing the injection from working?
• establish the clinical utility of therapeutic drug monitoring e.g. develop a way of testing how well the injections are working that can be used by healthcare professionals easily within the clinical setting.
Work Strand 2 (WS2) aims to:
• develop scalable immune and genomic stratification biomarkers to inform psoriasis classification and prediction of treatment outcome e.g. create a measure that includes immune and genetic information to better define types of psoriasis and how this information can predict if a treatment is likely to work.
• improve and extend understanding of pathways underpinning psoriasis drug response, disease biology, clearance and remission e.g. better understand psoriasis and the path the disease may take.
What we have accomplished so far:
Commencing in 2014, PSORT's partners have made steady progress towards achieving its aims.  Below is a summary of our progress thus far.
Starting out
In our first year, our Work Strand teams got off to a great start setting up our clinical studies and beginning recruitment to establish our patient cohorts.
• First site opened – Guys and St Thomas' NHS Foundation Trust
• First patient recruited – May 2015.
• Further sites were set up via our hubs in Salford, Manchester; Newcastle and London.
Identifying clinical and pharmacological predictors of response
In year 2 our partners in WS1 set out to identify clinical and pharmacological predictors of response:
We used clinical and demographic data from the BADBIR Registry to describe and categorise treatment outcomes for psoriasis patients.
From this data we used the two most commonly prescribed biologics for psoriasis, Adalimumab and Ustekinumab and examined how patients responded over time to their first ever biologic.
Early findings
We found that:
The type of psoriasis and potentially modifiable factors (BMI, smoking status) are associated with poor outcomes with biologics, underscoring the need for lifestyle management.
However, these factors alone cannot inform treatment selection.
Our work has continued into years 3 and 4 with some interesting results observed.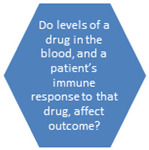 Examining Drug/Anti-Drug Antibodies Levels as Determinants of Response
Results from the Adalimumab category validate early drug levels as a predictor of response and identify individualized probabilities of response for any given drug level. Findings in the Ustekinumab category using conventional modelling approaches also suggest that early drug levels predict response but overall, we were unable to find a clear relationship between drug levels and response.
Immune Biomarkers in Skin and Blood
Our work is ongoing to determine changes in the skin and blood that might predict response to treatment and is expected to be completed in the next few months.
Is there a genetic link to treatment response?
Our genetics working group have investigated genetic associations with response to biologic therapy particularly with Adalimumab and Ustekinumab.
To date, we have found that reference to certain genes could offer substantial clinical benefit when selecting treatments for severe psoriasis.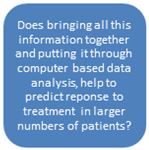 Data Integration and Analysis
In our 5th and final year of the programme, all aspects of our work are being drawn together to inform the development of a clinically useful stratifier (or an order of differences and similarities of people's psoriasis in terms of physical appearance, genetic and immune markers) to help direct treatment for psoriasis.
For scientific summaries of our individual Work Strands, please click on the relevant links.